Normal price
€48,37 EUR
Selling price
€38,70 EUR
Base price
per
Sale
Sold out
🌟 20% discount 🌟
The ginkgo biloba extract it contains helps to maintain memory performance and preserve cognitive abilities. The addition of iron also promotes the production of red blood cells and has a positive effect on natural oxygen transport in the body and on the immune system.
Size: 60 tablets
MORE INFORMATION ABOUT THE PRODUCT
BioGinkgo
The in BioGinkgo Ginkgo biloba extract helps to maintain memory performance and preserve cognitive abilities(**)(*) In addition, the addition of iron promotes the production of red blood cells and has a positive effect on the natural oxygen transport in the body and on the immune system. It is therefore a useful addition to the "Ginkgo biloba" extract.

Size: 60 tablets
How to use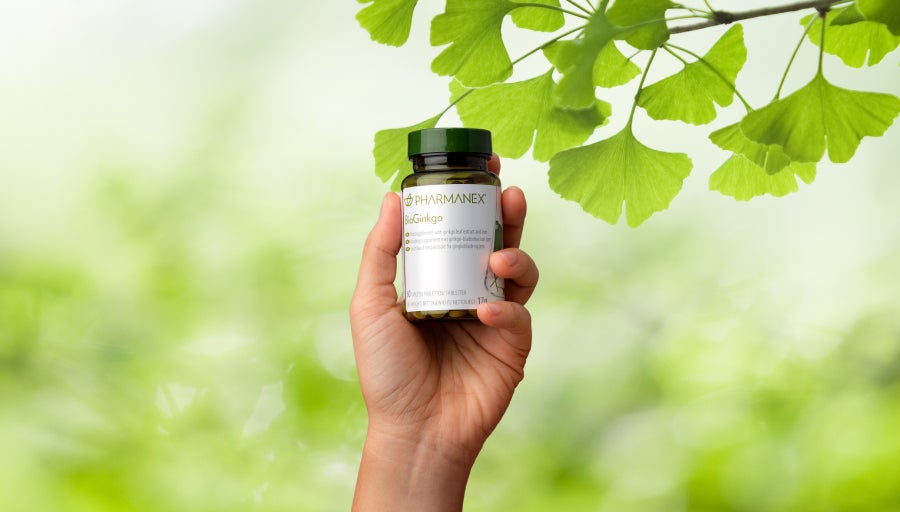 Take one (1) tablet twice daily with meals.
Benefits and properties 
Ginkgo biloba contains natural antioxidants that help protect cells and tissues from oxidative stress. .(**)(*)
Iron contributes to healthy cognitive function and oxygen transport and plays a role in the normal formation of red blood cells and hemoglobin.
Important ingredients

Ginkgo biloba: Ginkgo biloba has been researched for its potential benefits to cognitive function.(**)(*) Most ginkgo products typically contain flavongylcosides and terpene lactones extracted from the leaf. 
Frequently asked questions
Why is iron important for humans?
In the diet, iron is found in products of animal and plant origin such as meat, fish, chicken, wholegrain products, nuts and green vegetables (spinach). Iron is an essential mineral for several functions. In humans, iron is contained in haemoglobin, which enables it to bind oxygen reversibly. Haemoglobin transports the oxygen in the red blood cells to the tissues. Another function of iron is the natural production of energy, also known as ATP, and the body's immune defense. Like all essential nutrients, iron is also required for cell division


What role does iron play in reducing fatigue?
Iron is involved in important metabolic functions, including oxygen transport throughout our body and energy metabolism. In other words, it plays a role in transporting oxygen to our cells, thus helping to reduce fatigue and influencing energy metabolism. 


What is Ginkgo biloba?
Ginkgo biloba is the oldest known living tree species and can be traced back more than 200 million years. The first traditional use of ginkgo was described in 2800 BC. Today, Ginkgo biloba can be found as a herbal ingredient in dietary supplements.
Complete list of ingredients:
Bulking agent: microcrystalline cellulose, dextrose, Ginkgo biloba L. leaf extract (19.5 %-105 mg/2 tablets) maltodextrin, iron bisglycinate (4.2 mg/2 tablets-30 % TRM*), bulking agent: cross-linked sodium carboxymethylcellulose, anti-caking agent: silicon dioxide, bulking agent: sodium carboxymethylcellulose, dextrin, emulsifier: lecithin (soy), stabilizer: sodium citrate, anti-caking agent: magnesium salts of edible fatty acids, coating agent: methylcellulose, glycerol.


*Daily reference amount for an average adult.
(**)Please note that some EU member states have further specifications according to their national legislation. Where this applies, please refer to the country-specific information in this document in the relevant national language(s).
(*) Statement will be checked.
Show full details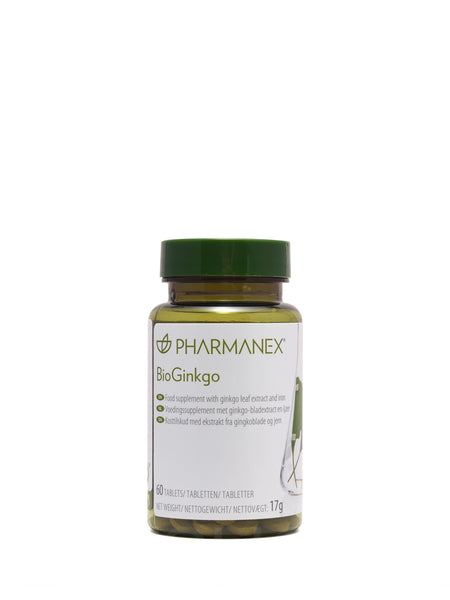 We are happy to advise you
so that you choose the right products for you and achieve the best possible result!