Normal price
€35,48 EUR
Selling price
€28,38 EUR
Base price
per
Sale
Sold out
🌟 20% discount 🌟
NuSkin TRthriv Focus Tea with guarana, matcha green tea and lemon flavor for more energy and concentration. The alternative to coffee or energy drinks.
1 package is enough for 30 servings
MORE INFO ABOUT THE PRODUCT
TRthriv Focus Tea
1 package is enough for 30 servings

NuSkin TRthriv Focus Tea with Guarana, Matcha Green Tea and Lemon Flavor.
Do you ever feel like your to-do list is getting longer and longer and you can't manage to keep up with it? Or maybe you're just not a morning person and it's hard for you to start the day focused? Maybe you likejust don't like the taste of coffee...

If you can answer "yes" to any of these questions, then you can use TRthriv Focus Tea help! TRthriv Focus Tea contains more than just tea: it is a instant drink that helps you start the day well and stay focused throughout the day. Rich in herbal ingredients and with guarana, a plant source of caffeine,our Focus Tea is a great alternative to your cup of coffee or favorite energy drink.



Drinks are plentiful, so why Focus Tea from Nu Skin?
Quite simply, who Nu Skin knows that Nu Skin always sets new standards with its science, is always a few steps ahead of the competition.



Ingredients
Our Focus Tea contains caffeine to support mental and physical performance.* This instant herbal tea with guarana, matcha green tea, lemon flavor and sweetener can be enjoyed hot or cold.

* For adults who participate in endurance sports. Caffeine in a dosage of 3 mg/kg body weight one hour before exercise helps to increase endurance and performance.
Show full details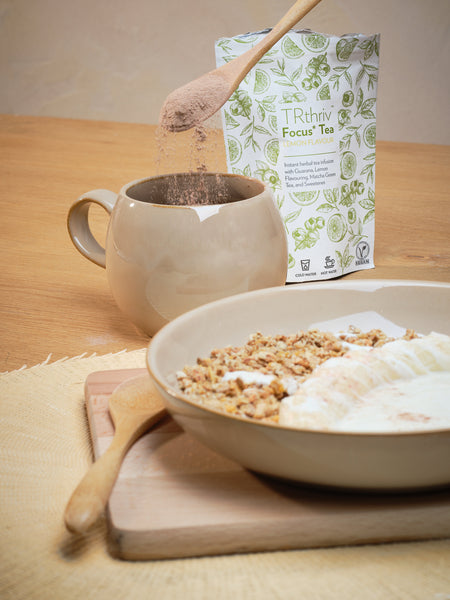 We are happy to advise you
So that you choose the right products for you and achieve the best possible result!