Normal price
€87,69 EUR
Selling price
€70,15 EUR
Base price
per
Sale
Sold out
🌟 20% discount 🌟
With Beauty Focus Collagen+ you can boost collagen and elastin production, improve radiance, visibly reduce fine lines and wrinkles and moisturize the skin - for all-round beautiful skin.

The + stands for a unique, clinically proven and patent-protected blend:

☑️ Bioactive Collagen: Peptide® fingerprint that stimulates your skin cells to produce cells to produce more collagen and elastin.

☑️ Lutein for more radiance and protection against oxidative stress factors, such as
blue light.

☑️ Phytoceramides help strengthen and protect the skin's barrier and
retain moisture.

30 sachets
Net weight 97 g/package, orange flavor


MORE INFORMATION ABOUT THE PRODUCT
Beauty Focus Collagen+
With Beauty Focus Collagen+
☑️ you can boost collagen and elastin production
☑️ improve your radiance
☑️ visibly reduce fine lines and wrinkles and
☑️ support the supply of moisture
30 sachets
Net weight 97 g/package, orange flavor
The science of beauty in a practical food supplement for every day!

Beauty Focus Collagen+ is an innovative beauty supplement consisting of a unique combination of collagen hydrolysate, wheat germ extract and lutein. This combination of active ingredients has been clinically proven to provide Anti-Aging-Benefits.
Are you ready for youthful looking skin from a delicious drink?

How to use
Dissolve one sachet in 100 ml of water. Consume immediately after mixing. Take once a day.

You can Beauty Focus Collagen+ in hot and cold drinks and foods without any loss of effect. Enjoy it at any time of the day. 


What does Beauty Focus Collagen+ so unique?
The real "plus" of Collagen+ is that our powerful formula does more than conventional collagen products thanks to its proprietary blend of ingredients. Our bioactive collagen peptides have a special peptide "fingerprint" that allows them to bind more effectively to collagen receptors for enhanced beauty. Lutein contributes to a radiant appearance and helps protect against the damaging effects of oxidative stress factors such as blue light. And then there are our phytoceramides, which moisturize the skin. All these unique ingredients mean that Beauty Focus Collagen+ outshines the competition and delivers results that exceed expectations.

Ingredients: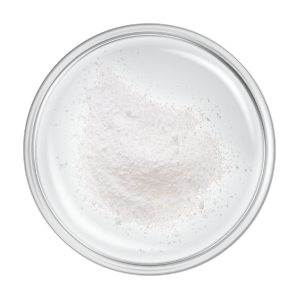 Collagen hydrolyzate: Nu Skin Collagen is specially controlled by our supplier during hydrolysis with the aim of obtaining the correct collagen peptide profile or the precise peptide "fingerprint" for beauty purposes - proven by clinical studies on humans that suggest an improvement in the appearance of the skin.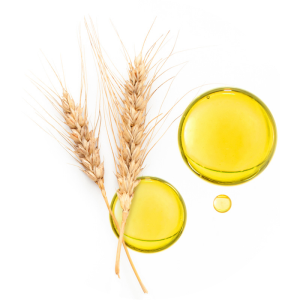 Wheat germ extractObtained from the nutrient reserves of wheat, the ancient grain so important to human history. Wheat germ extract is a high-quality plant source of ceramides, a class of lipids that play an important role in beautifying the skin.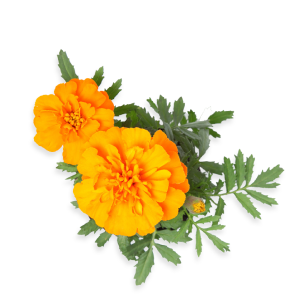 LuteinLutein is extracted from marigolds with orange petals, the color of sunshine, which is reflected in the hue of Beauty Focus Collagen+ color.
Collagen hydrolyzate 2,500 mg/bag, flavor enhancer: citric acid, natural flavor, lutein 5 mg/bag, wheatgerm extract (Triticum aestivum L.) (gluten) 70 mg/bag, sweetener: steviol glycosides from stevia, anti-caking agent: silicon dioxide, colorant: carotene.
Allergy advice: Allergens are printed in bold. May fish, Milk, soy, celery, mustard, Sulphur dioxide and sulphites contain.
Amount per serving in 1 bag:
Collagen hydrolyzate: 2,500 mg
Wheat germ extract (contains ceramides): 70 mg
Lutein (from marigold extract): 5 mg
What is collagen?
Collagen is an important structural protein found in skin, bones, muscles, tendons, ligaments and cartilage. As adults, our bodies produce about 1.5% less collagen each year, and its production can also be inhibited by oxidative stress factors such as sunlight. This means that getting extra collagen in your diet can be crucial for better functioning of your skin and body. Collagen peptides are a better way to supplement this important collagen as they are easier to digest, absorb and distribute throughout the body.


A favorite for a reason!
The benefits of a daily intake of Beauty Focus Collagen+:

Preserves the elasticity of the skin.

Has a positive effect on radiant skin.

Maintains the normal structure of the skin.

17 % reduction in wrinkles around the eyes after 8 weeks. (1)
Clinically proven to support the benefits of the LumiSpa-skin care system (radiance, texture and overall appearance of the skin). (2)
(1) Proksch E, Schunck M, Zague V, Segger D, Degwert J, Oesser S. (2014). Skin pharmacologic physiol. clinical study with 114 women aged between 45 and 65 years who took 2.5 g collagen peptide for 8 weeks (n = 57). The control group (n = 57) received a placebo.

(2) Hester N, Wood S, Gray R, Kern D, O'Donnell R, Draelos Z, (2021). JOJ Dermatology & Cosmetics. A combination of collagen peptides, lutein and wheat germ extract as a dietary supplement improves skin properties. A randomized, placebo-controlled study of 60 men and women aged between 40 and 60 years was conducted to determine the effect of taking a dietary supplement containing a unique combination of collagen peptides, lutein and wheat germ extract for 120 days on skin appearance and skin properties. Dietary supplement n = 40, placebo n = 20. In addition, the study was designed to determine whether the use of a facial cleansing device with simultaneous intake of the dietary supplement had additional benefits for skin appearance.


Show full details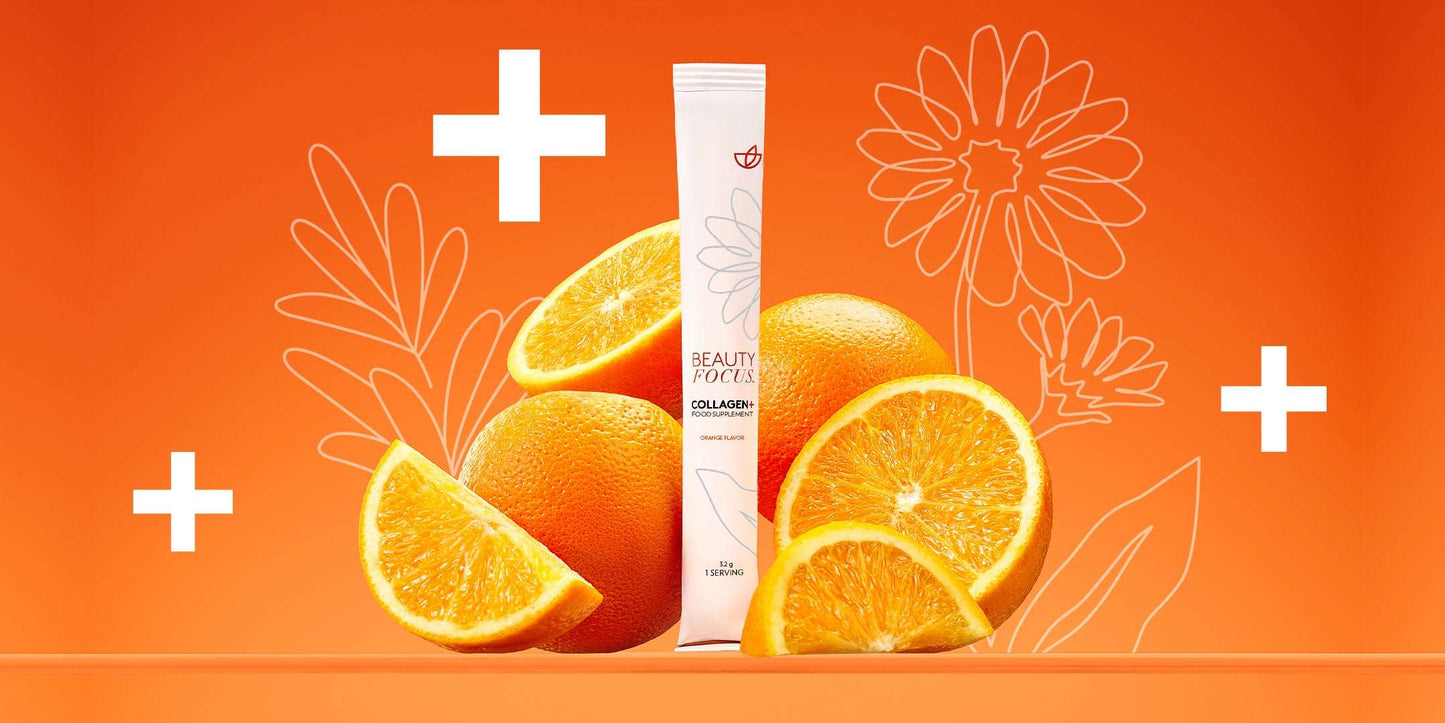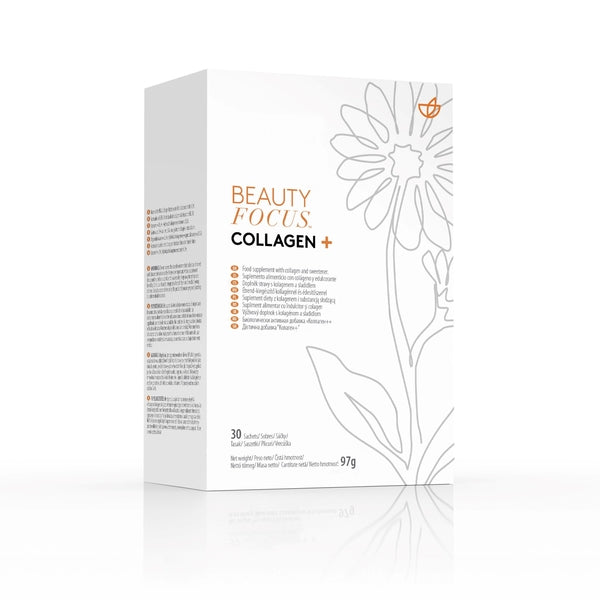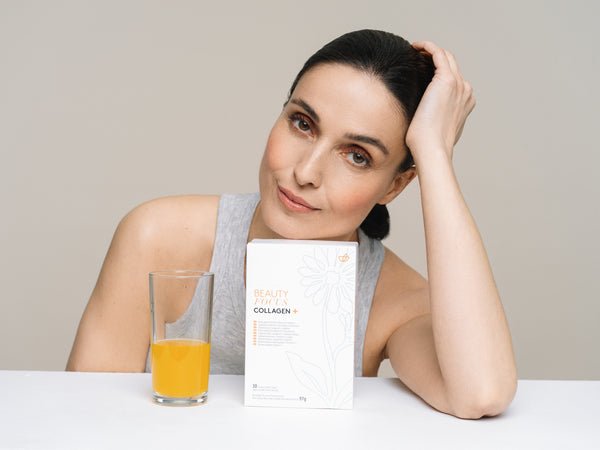 Top product
I am very satisfied with the product BEAUTY FOCUS COLLAGEN.
Beauty Ficus Collagen+ from Nu Skin
After 2 weeks my skin has changed beautifully 👍 I had already been recommended the product by my beautician and the result completely convinced me. A really great product, which I have definitely recommended to others. Corina N.
We are happy to advise you
so that you choose the right products for you and achieve the best possible result!