Normal price
€269,06 EUR
Selling price
€215,25 EUR
Base price
per
Sale
Sold out
🌟 25% discount 🌟
35% Rabatt an den Magic Days vom 5.-8. Dezember - nur 174,89 Euro
Your solution for firmer-looking skin. ageLOC Tru Face Essence Ultra is Nu Skin's skin firming powerhouse. The highly effective formula is a combination of our exclusive, scientifically tested Tru Face FirmPlex technology, which visibly tightens the skin, and the popular ageLOC science that gets to the root of the signs of ageing. The result? Skin that feels firm and looks lifted. For youthful results you can see, feel and love. -
😍 Also called the pearls of beauty. 😍
60 capsules
MORE INFORMATION ABOUT THE PRODUCT
ageLOC Tru Face Essence Ultra
Advantages
The ingredients of ageLOC combat the main causes of skin ageing to maintain a youthful appearance and counteract visible signs of ageing.
Visibly reduces fine lines and wrinkles to give younger looking skin.
Thanks to the special formula with Tru Face FirmPlex, the skin is visibly firmer.
The skin is visibly smoothed, firmed and more elastic - for a youthful, smooth and healthy-looking appearance.
Defines the skin around the eyes, chin, mouth and jawline - for firmer-looking contours.
Helps to protect the skin from the negative effects of oxidative stress.
How to use
For optimum results ageLOC Tru Face Essence Ultra Apply twice daily and use as part of your routine before moisturizing. Wear ageLOC Tru Face Essence Ultra on. Open one capsule per application and gently squeeze two to three drops onto your problem areas. Then spread the rest of the product over your entire face.

You can ageLOC Tru Face Essence Ultra simply make it part of your daily ageLOC transformation skincare program. Apply ageLOC Tru Face Essence Ultra after the ageLOC Future Serum on.
Ingredients
AgeLOC ingredient combination: Targets visible signs of skin ageing at the root.
Tru Face FirmPlex: Scientifically tested skin-firming technology, one of the main components for smooth skin.

Antioxidant network: Helps to protect the skin from oxidative stress. 
- A stable form of vitamin C
- Ubiquinone and vitamin E: These active ingredients help to strengthen the natural skin barrier
Squalene (from vegetables): This care softens the skin and is suitable for all skin types.

Not a favorite for nothing
Based on a 12-week consumer study:

37% improved skin texture with more elasticity*

21% firmer looking, 25% more radiant skin*

Depth of wrinkles, especially crow's feet, reduced by 23%*
Show full details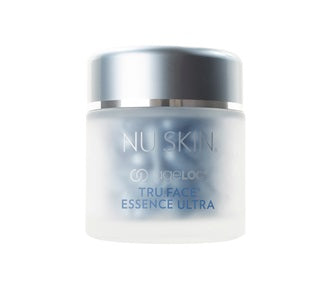 We are happy to advise you
so that you choose the right products for you and achieve the best possible result!