Normal price
€156,68 EUR
Selling price
€117,51 EUR
Base price
per
Sale
Sold out
🌟 25% discount 🌟
The LumiSpa Accent attachment for your LumiSpa iO (not compatible with the classic LumiSpa!) exfoliates your skin and revitalizes it as gently as the eye area needs. Only in combination with the ageLOC IdealEyes eye cream the magic unfolds and lets your eyes shine. Content: Accent & Cream
MORE INFO ABOUT THE PRODUCT
ageLOC LumiSpa iO Eye Care Kit
The ageLOC LumiSpa iO Accent attachment can be easily attached to your ageLOC LumiSpa iO on your device.

Contents: LumiSpa iO Accent Eye attachment & IdealEyes Eye cream
ATTENTION: This Accent eye attachment only fits the LumiSpa iO, for the classic LumiSpa you will find here the right essay.
With the wave-shaped silicone attachment you exfoliate your skin and revitalize it, as gently as the eye area needs it. Only in combination with the ageLOC IdealEyes eye cream the magic unfolds and lets your eyes shine.👁️🌺

Have you been working overtime? Partied all night? Not quite asleep? You can see it in your eyes. We all know it: dark circles under the eyes, bags under the eyes, lines and wrinkles - the skin around the eyes is just super sensitive. That doesn't have to be the case anymore.
Give your eyes love and care with the mega soft eye attachment for the LumiSpa & Ideal Eyes Cream.
The LumiSpa Accent caresses your eyes like a petal and gives them the best care there is 👁️🧡 Look forward to wonderful awake, expressive radiant eyes in 2 x 30 seconds!
LumiSpa Accent eye attachment is the perfect complement to the innovative, award-winning ageLOC LumiSpa device. 

😍 look fresh and refreshed
😍 less dark circles under eyes
😍 less puffy eyes and bags under the eyes
😍 tightening of the eyelids, like light lifting
😍 moisturizes the skin so that it looks softer, smoother and more radiant
You will immediately notice the clinically proven benefits!💎
We will be happy to advise you on how to achieve the best possible results.
Tel/WhatsApp: 015752904292, e-mail: mail@nu-business.life 
Show full details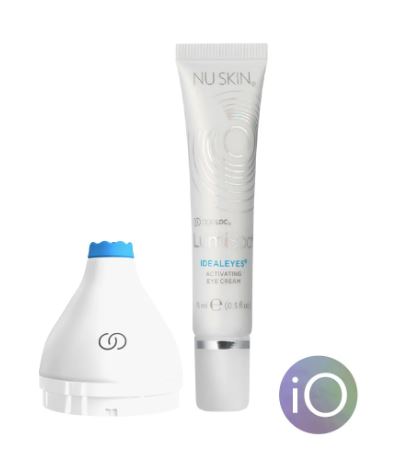 Super part
The cream is very easily worked into the skin.
LumiSpa iO Accent Eye attachment
We are happy to advise you
So that you choose the right products for you and achieve the best possible result!